Full transcript of Obama's speech.

Really? The first Black president in America's history, speaking on the 50th anniversary of the historic Civil Rights march on Washington delivers a speech characterized by a notable lack of energy and perhaps interest. And given the record of this nation, and the revival of institutionalized, statistically-excused, and even overt racism, this speech might have been a rallying call to the work yet to be done, and the progress imperiled.
In glaring monotone, one could almost make the case that his words were weighted with the guilt of supporting a system marked by injustice and the deepening, systemic inequality supposedly eschewed in the very founding documents of our nation. Perhaps that is a natural arc for those who come to issues of race and injustice as more an observer than a victim. Certainly Obama, as he has sincerely indicated, has been the target of racism; but he has also had a more privileged perspective by virtue of a mixed race and opportunities in life not afforded to many in the African American community are still burdened with today.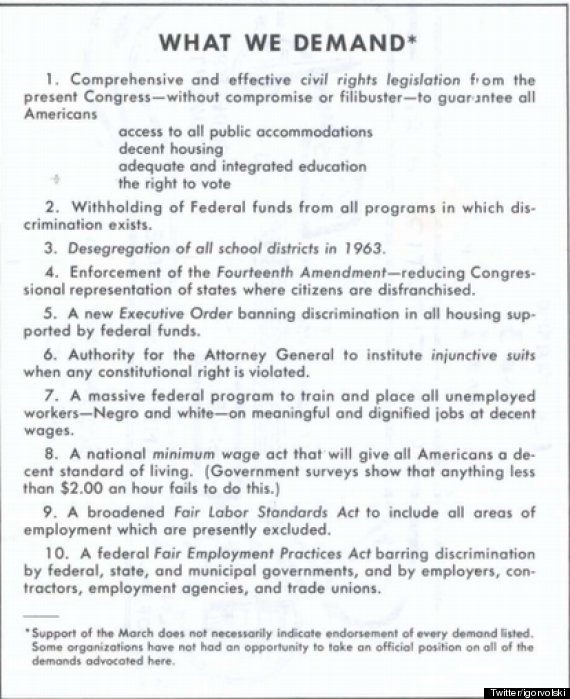 At times the President seemed to come alive, finding moments of realization about the struggle continuing among too many in the minority communities of this nation. There was none of the noble and resistant exaltation of King's speech on that spot 50 years earlier. There was no accounting of the progress or lack of progress of the dream King heralded and demanded. Instead, in a rambling and rarely evocative late-term speech that did little to celebrate the anniversary, nor decry injustices yet to be corrected Obama still seemed to stand more on policy than purpose.
We have entered a new era in race relations, but one that could hardly be described as post-racial. Instead there are those who would learn from the past to sharpen and polish their racism and racially divisive attitudes. They argue with the deepest sincerity using statistics to validate horribly racist policies such as stop and frisk law, racial profiling and crime as a means of evading the larger culture's complicity, abandonment and responsibility in issues directly impacting, impeding and damaging the black community.
Pound the lectern, Mr. President. Rage at those injustices because that is what is needed. You are a leader whose responsibility is to lead this nation. But you are also a black man, and your/our-brothers and sisters remain in bondage as deeply as they did on that August day in 1963 when an unassuming reverend responded to a call to tell us about "the dream." Can we rightly say that dream has been fulfilled or realized as schools close, black neighborhoods bear the brunt of economic downturns first and more acutely, and when guns from a white dominated gun industry magically proliferate among black neighborhoods due to lack of adequate and reasonable policy?
This nation still blames the symptoms of racial and economic inequality and injustice while lauding the cancer of greed and racism.

Use Facebook to Comment on this Post